Event Details
Ghost Comics Festival
27th October 2018
12 - 5pm
257 London Road, G40 1PE
Glasgow
Free Entry
Ghost Comics Festival is a brand new event dedicated to promoting alternative comics in Glasgow, happening for the first time on Saturday, 27th October 2018, at The Space.
For our first edition, we've decided to focus on local talent. We want to bring together as many local creators as we can fit in our venue and get everybody talking about comics! We hope to contribute to making alternative comics more visible in Glasgow. We know there are local artists making valuable work and we want more people to be aware of it.
Ultimately our main intention is to help build an alternative comics scene in Glasgow and Scotland, where cartoonists feel inspired and encouraged to make comics for an interested and dedicated audience!
ghostcomicsfestival@gmail.com
Comics Fair
We'll be hosting a fair featuring a curated selection of cartoonists, collectives, and small presses, which represent what we think is the best work being made locally.
This is a great opportunity to meet and support independent local talent and get to know the comics and art they've been making!
Here's the full list of exhibitors:
Riso Sur Mer

Chioma Ince
Edith Ault
Mollie Claasen
Roxanne Yuang
Workshops
We're excited to have three fun and accesible workshops available as part of our Ghost Comics Festival!
Our tutors will cater to every skill level so you don't need to have previous knowledge of the subjects being taught. All materials will be provided on the day, although participants are welcome to bring their own when suitable (e.g. you can bring your own pencils and pens to our Introduction to Comic Making workshop).
These workshops are for both adults and children over 8 years old. Children aged 12 and younger need to be accompanied by a participating adult (this means both the child and the adult need to book and pay for a place on the same workshop).
Each workshop is limited to 10 participants so we recommend you to book in advance by using the payment buttons below.
Introduction to Comic Making
12:30 – 13:30
£3.00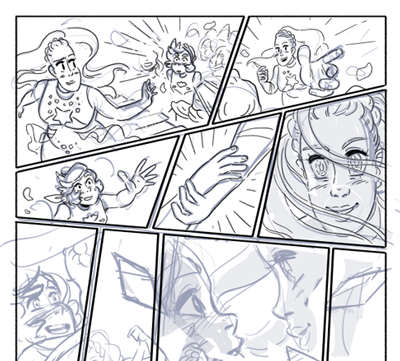 A casual and interactive workshop where we'll start by talking about the fundamentals of comics before getting you to do some drawing and explore different techniques to make your own comics. We're also going to discuss the potential of self-publishing and go through some simple technical aspects of designing and producing your own comic zine. You don't need to have been previously introduced to drawing or making comics, just come and see how easy it is to get started!
Jem Milton (NB they/them) is a comic artist and illustrator based in Glasgow. They have been working as a graphic facilitator for years and more recently as a mentor for the Scottish Book Trust. They make and self-pubish diary comics and have been published by various small press groups such as One Beat Zines and Comic Book Slumber Party. They also work on an ongoing queer fantasy webcomic called The Flying Ship, which is inspired by Russian Folklore.
Introduction to Puppet Making
14:00 – 15:00
£5.00
Learn the basics of making hand puppets! You'll be guided through the whole process, from designing your own character on paper to translating it into fabric and realising your design. All materials will be provided, however if you have special fabrics you would like to use then please feel welcome to bring these along. No knowledge of sewing required! At the end of the workshop you will have your finished puppet friend to take home!
sunboy toys is an ongoing textiles based collaborative project between Katie Lundie and Isobel Neviazsky that began in 2017. The project includes toys, banners, flags and clothes. They like to make friendly and colourful friends who appeal to all ages. Their work is based on developing their own recurring characters, as well as commissions and collaborations with other artists. All toys are handmade primarily from recycled fabrics which means that every toy is a little different from the last.
Introduction to Screen Printing
15:30 – 16:30
£5.00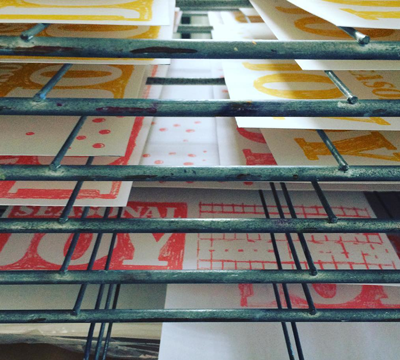 A quick introduction to screen printing where you will learn about the process and get a sense of how everything works before having a go at pulling your own unique colourful prints using different graphic elements from pre-burned screens. Things might get messy so maybe it's a good idea to bring an apron if you want to protect your clothes.
Jessica Taylor is a freelance illustrator living and working in Glasgow. She's one half of ok no studio, a screen printing and illustration studio dedicated to designing and making hand printed goods. Apart from freelancing and developing her own personal projects, Jessica works as a Narrative Art tutor and has also delivered multiple workshops to both experienced and novice screen printers. Her work has appeared in The Guardian, Glasgow School of Art, and Grafik magazine.
Collective Wall Comic
We'll be running a group activity open to all exhibitors and visitors alike throughout the whole duration of our Ghost Comics Festival. We're calling it Collective Wall Comic!
We're going to have a wall covered with paper where empty panels will be waiting for everybody's drawings! At the end, we'll have a collective comic which will be documented and published online.
Come and be a part of it, we want your drawings!
F. A. Q.
What's Ghost Comics Festival?
Ghost Comics Festival is a brand new festival dedicated to alternative comics, and organised by Jessica Taylor, João Sobral, and Julia Scheele.
When and where is it happening?
Ghost Comics Festival is happening for the first time on Saturday, 27th October 2018, in Glasgow, at The Space, 257 London Road, G40 1PE. The Space is run by People Without Labels, a charity with a vision of supporting people to flourish and realise their full potential by creating an environment for creative and recreational events.
Is there wheelchair access?
Yes, The Space has a ramp that can be used if needed. Fully accessible toilets are also available.
What can I see at Ghost Comics Festival?
Our main attraction is the Comics Fair featuring a curated selection of local cartoonists, collectives, and small presses, where you can see and buy comic books and zines and other products from our exhibitors. We're also hosting three workshops open to both adults and children over 8 years old. Finally we're going to be running a group activity called Collective Wall Comic and open to all exhibitors and visitors alike.
How much does it cost to go?
It's free to visit the Comics Fair and to visit and take part on the Collective Wall Comic. The workshops cost between £3 and £5, and are limited to 10 participants so it's recommended to book them in advance. You can do that by using the payment buttons on this website. Children aged 12 or younger need to be accompanied by a participating adult.
Can I pay by card during the Comics Fair?
Some exhibitors may be able to take card payments, however we can't guarantee that and we recommend you to bring cash.
Where is the nearest cash machine?
We believe your best option is either the one at Morrisons (5 Barrack Street, Gallowgate G4 0TX) or the one at Waqar Newsagents (93 Saltmarket, Glasgow G1 5LE).
Is there any food and drinks available?
Yes, The Space hosts The Living Room, which provides hot & cold vegan, veggie and freegan meals and snacks along with an array of non-alcoholic, alternative hot & cold drinks all at Pay What You Decide (PWYD).
Isn't this comics stuff just for kids?
We know some people may think that but actually the comics and artworks we'll be exhibiting are mostly intended for adults. That doesn't necessarily mean their contents are inappropriate for children, it just means children may not fully understand or be very interested in them.
I make comics, can I have a table to exhibit and sell my work?
We're not taking applications at this time. Although, if you're a creator who'd like to exhibit, stay tuned for our future events. In the meantime, we encourage you to visit us and get to know our exhibitors and their work at our first Ghost Comics Festival.
I want to make comics, can you help me?
If you want to make comics and don't know where to get started, we invite you to visit us and find inspiration on our exhibitor's comics. We're going to have a wide range of comic styles and approaches, all together in the same space for one day! Come and have a look through all that, have a chat with your favourite artists, and maybe try a workshop?
I don't care about comics, is this event for me?
Maybe not. But maybe you'll find something that will surprise you...
Can I sponsor Ghost Comics Festival
Of course you can! It might be too late to sponsor our first festival but we're always interested in getting financial and technical support for future events so please, do get in touch!